---
As part of BSR's Business Leadership for an Inclusive Economy initiative, we are running an interview series with thought leaders from business, government, civil society, academia, and philanthropy. Their voices and perspectives will help deepen our conversation on how we can build a more inclusive economy and how business can most effectively contribute to that vision. We spoke to Marcela Manubens, global vice president for social impact at Unilever, about the Unilever Sustainable Living Plan, key inclusive economy issues of focus for the company, and the role of leadership.
Cecile Oger: Unilever has taken on some very ambitious goals in the Sustainable Living Plan. What do you see as Unilever's role in supporting more inclusive economies?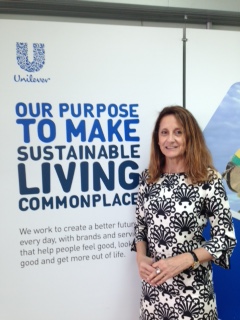 Marcela Manubens: Our driver—our compass or formula—for responsible, inclusive growth, is the Unilever Sustainable Living Plan, which was created in 2010.
When I came on board, Unilever was already driving toward inclusive, sustainable business. Unilever's vision is to grow the business while increasing positive social impacts and reducing our environmental impacts.
In 2014, we expanded our social ambition and created three distinctive pillars around enhancing livelihoods. The first pillar is fairness in the workplace—it's all about human rights embedded in our operations and includes, of course, working on the effective implementation of the responsible sourcing policy in our extended supply chain, and addressing issues such as fair compensation, land rights, and eradication of forced labor among others. The second pillar is opportunities for women, because research shows women's economic empowerment is the most effective tool for development, and because there is a real economic case for bringing marginalized women, or women who are currently working in the informal sector, into the formal economy. The third pillar is specifically inclusive business and is focused on strengthened or new business models. For instance, with our smallholder farmer program, we declared an ambition to improve the livelihoods of 500,000 smallholder farmers.
Oger: What key issues are you looking to focus on at Unilever, and how have you found success?
Manubens: Women's economic empowerment and safety for women in the communities where we operate are critical. It's very difficult for women to "lean in," to do everything that we think that women can do and contribute, if they are worried about their safety and the safety of their children, particularly daughters.
When we talk about women's empowerment, we refer to the tripod of rights, having the skills to succeed, and opportunities—including access to markets and market information, funding, etc. Having the skills to succeed is very important. BSR's HERproject is one good example where not only work skills but also life and financial literacy skills really help women more effectively manage the resources that they acquire through their active participation in the economy.
And in our inclusive business pillar, our aim is to improve the livelihoods of people in our extended value chain. We focus on innovative, sustainable, inclusive models for vulnerable yet vital communities—such as smallholder farmers and small-scale retailers—to increase productivity, create opportunities, and, therefore, improve their income. To do so, we are working in partnership with organizations such as GIZ and Solidaridad. A good example of an integrated, sustainable business model is our vanilla project with Symrise in Madagascar. My personal belief is that over the next five to 10 years, issues of sustainability—both environmental and social—will be fully integrated into supply chains.
And beyond Unilever's ambition, if you look at the Sustainable Development Goals (SDGs), Goal 8 promotes sustained, inclusive, and sustainable economic growth, full and productive employment, and decent work for all and sets out specific targets that we all want to achieve by 2030. At Unilever, we believe that business as a whole has a vital role to play in sustainable development and responsible economic growth.
Oger: You have a a very strong and charismatic CEO. Can you expand on the role of leadership and how Paul Polman's leadership has impacted Unilever's vision and commitment to these issues?
Manubens: Our CEO Paul Polman has a very clear vision and unwavering commitment to sustainable business. Under his leadership, in 2010, Unilever set the ambition to fully decouple growth from our overall environmental footprint and increase our positive social impact under the Unilever Sustainable Living Plan. Paul leads by example and is an inspiration to me and many colleagues and leaders inside and outside Unilever, across organizations and geographies.
Paul strongly believes in collaboration and believes that a multistakeholder approach is necessary to bring about systemic change. For example, Paul was a member of the UN's High-Level Panel of Eminent Persons on the Post-2015 Development Agenda, and in 2014 we coordinated the development of a Post-2015 Manifesto, a call to arms from the business community in support of the SDGs. The manifesto lays out the vision for business to substantially help achieve the SDGs. Polman is a chairman of the World Business Council for Sustainable Development and a member of the B Team, and he sits on the Board of the UN Global Compact and the Consumer Goods Forum, where he co-chairs the Sustainability Committee, among other leadership positions.
Unilever has a remarkable history of being socially responsible. To its founder, Lord Leverhulme, his workers' welfare was as important as his wealth. I strongly believe that this kind of leadership—displayed both by Lord Leverhulme and Paul Polman—is transformational and delivers more than a financial bottom-line value: It contributes to societal value at large. Our Sustainable Living Plan ambitions resonate with each of us in the company.
Oger: Do you think it's already "business as usual" for Unilever to think about other populations that were traditionally left out of its consumer base or its supply chain?
Manubens: Perhaps our thinking is "business as usual," but there is plenty to do. Some of the most exciting things about working at Unilever are the opportunities that we create by working with others, by bringing new thinking within the industry. We are at the beginning of the journey, but we are ensuring the right kind of discussions and formats for these programs. We don't want to know it all; we just want to raise the bar.
Oger: In your view, how can BSR contribute to helping companies integrate inclusive economy thinking into the way they do business?
Manubens: I had the privilege to know and work with BSR since its early days, so there have been many contributions! BSR has been a thought leader in many areas, but particularly in human rights and sustainability, helping companies develop awareness and build programs to deliver real impact. BSR has been at the forefront of the corporate social responsibility movement. BSR has an important role to play, as it helps companies move into a circular economy where embedded social, economic, and environmental sustainability is the norm. Companies that thrive will be those that design and promote innovative smart technology and those that rely on multistakeholder platforms to share best practices and actions.
Read more perspectives on Business Leadership for an Inclusive Economy.